No dedication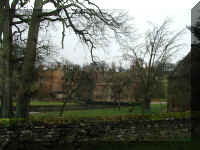 1
1 - Lord Northampton lives in the Elizabethan Manor House, set amid parkland, together with its private chapel.

The chapel dates from the Restoration, and was rebuilt in the old tradition after damage during the Civil War. Old materials were used, and the church has since escaped any further "restoration".

There is a single arcade running down the centre of the church, with box-pews either side. There is no chancel as such, and the pulpit is half-way down the south side of the church.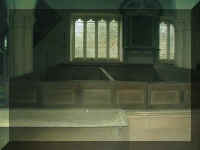 2
2 - The interior of the chapel, as viewed through the plain glass window adjacent the door on the north side (i.e., that facing the Manor House). Note the high box-pews.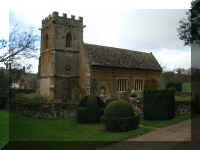 4
4 North side of the chapel, as seen from the private road from the House to the Stable Block and Gardens.
ACCESS
Map reference :

SP317455

The chapel stands next the private road between the Manor House and the Estate buildings, which are a short way to its west. The church is locked, and is only open when the House is also open. At other times the main drive to the House and the separate access to the Estate buildings are marked "Private" and the road to the buildings is marked specifically as "No access to church"

Photographs: © Edwin Macadam
Please see our Home Page for important copyright notice

the Webmasters
This site has been constructed by, and remains the copyright of its authors,
Edwin Macadam and Sheila Girling Smith, Shelwin, 30, Eynsham Road, Botley,
Oxford OX2 9BP

© July 2001 -
email