Holy Trinity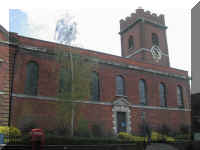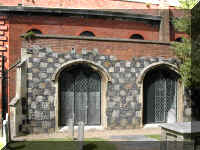 Known as the pro-Cathedral, the tower fell in 1740 and wrecked the old church. It was rebuilt between 1749 and 1763, being re-opened in 1763. It is now a solid red-brick church with a battlemented tower, almost certainly designed by James Horne, architect of St Catherine Coleman, Christchurch, Southwark, and St Mary, Ealing.
In 1869 various side galleries were removed, together with many other old fittings, and leaving the west gallery only, which remains, together with the pulpit. (CEPC)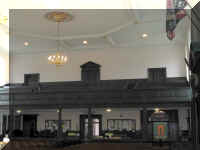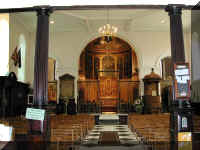 Its inside has an enormous span of ceiling, broader than any London church. Ironwork and joinery are very good, as in all Horne's churches, and here particularly the pulpit.
Dove's reference for the bells:
Guildford, Surrey, Holy Trinity, 8, 23-3-8 in D. Wednesday
ACCESS
Map reference :
SU999495
Photographs: © Karen Christley
Please see our Home Page for important copyright notice


the Webmasters
Because of problems with spammers sending gratuitous and unpleasant rubbish via our various email addresses we have had to resort to filtering all replies. This may result in an email being sent to you automatically asking if you would confirm that you are a "real" person, on the basis that automated senders of emails can't reply and others won't. Sorry to inconvenience you, but once you have responded positively, your emails to us will get through. Its designed to give us all peace of mind!
This site has been constructed by, and remains the copyright of its authors,
Edwin Macadam and Sheila Girling Smith, Shelwin, 30, Eynsham Road, Botley,
Oxford OX2 9BP

© July 2001 -
email