OLD CHURCH OF KIRK BRADDAN
The old church at Kirk Braddan is just two miles from Douglas. It was the Parish church for the town until 1876 when the new church was built a hundred yards away. It is set in a very picturesque setting and dedicated to St. Brendan.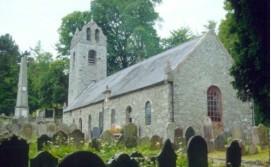 It was erected on the site of an earlier Church and as built in 1773 probably using some of the stone from the previous church; modern opinion is that much of the original church walls is incorporated in the present stonework.
It was no special architectural attractions except for the arched Norman windows , inside it consists of a large single rectangle shaped room with boxed pews with a raised gallery at one end. The pulpit is a very unusual one, consisting of three decks, the lowest box was used by the parish clerk, the middle one by the curate or vicar for praying or reading, and the top one for preaching. Inside it has not been touched by the Victorians and remains a plain, 'almost puritanical' Georgian 'auditory church' with a true Georgian Three Decker pulpit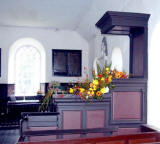 Lighting in the church at first would have been by rush light and later on would have been by oil lamps . There has never been electricity in the church.
According to the Rev. Brown in 1832, there were no cushions in the pews, no stove, no organ and no choir. The service was conducted half in Manx, and half in English.
Outside, after the morning service the Sumner would mount a tombstone and announce first in Manx and then in English the fairs and auctions that were to take place during the following week.
Visit the new church web site at http://www.gumbley.net/churches.htm from whence these pictures have been copied.