Troutbeck
Jesus Church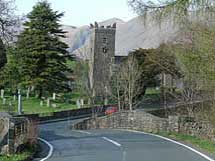 Troutbeck Church, exterior
taken from:
www.fellsidestudios.co.uk/directions.html
tel: 015394 34000 (many thanks!)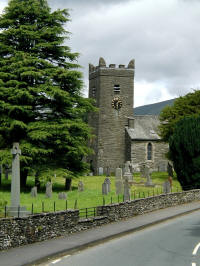 Troutbeck Church, exterior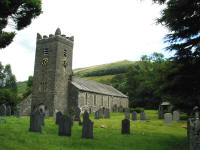 Troutbeck Church, exterior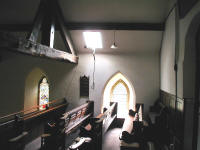 1736 west gallery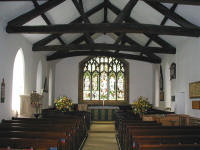 Troutbeck Church, looking east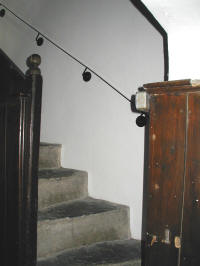 Troutbeck Church: gallery steps from front porch

Troutbeck Church; one of the Burne Jones'windows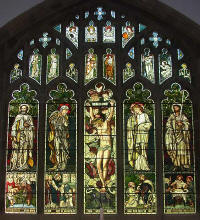 Troutbeck Church; east window.
Mostly designed by Sir Edward Burne Jones, but with additional detail
by Ford Maddox Brown and William Morris
Picture taken from
www.visitcumbria.com/amb/cha5.htm
(many thanks!)
Probably in existence prior to 1506, and originally the daughter church of St Martin's, Windermere; rebuilt in 1562. It has the unusual distinction of not having a patron saint, but the licence for its dedication refers to it as 2a Chappell oratory or a place appointed for prayer called for the honour thereof by the name of JESUS."
After its rebuilding in 1736, it had a tiny railed-off communion table in the chancel. with seating on three sides around it, for the use of leading parishioners. A slender oak screen divided the church from the nave, where the pulpit, reading desk and the clerk's seat formed a 'three-decker', and plain oak benches extended to the back of the church.
Needless to say, in 1861, all this was swept away, with the exception of the west gallery, whereon hangs the coat of arms of George II, painted on wood in 1737. The original church chest, with its three locks, remains in place on the floor under the gallery.

Notes on three Manuscript Books from the Browne Family Papers now held in the Armitt Library: by Chris Partington

The Browne Family came from the village of Troutbeck, 3 miles from the town of Windermere in the old County of Westmorland in the English Lake District. Since the boundary changes of 1974, this has formed part of the new County of Cumbria.

These Manuscript books are held in the collection of the Armitt Library in Ambleside. Many of the pages have been subsequently inscribed in the top corners as ALMS 11,12, or l3. I shall refer to them as BF 11,12, or l3, recognising the family whose books they were. They are all of similar 4"x 8" dimension, 4 staves per page, typical of late 18th / early 19thC manuscript fiddler's tune books. It is difficult to say for sure from the old photocopy whether the staves are hand drawn or printed. All the pages in both collections have been numbered in what looks to be the same 20th C hand that added the ALMS 11 / 12 / 13 inscriptions.

BF 11 (70 tunes) is largely written in a hand that I shall refer to as "Browne A" (65 tunes) The selection of tunes in this hand I believe to be consistent with a date of c1800.e.g. 7 tunes at least are from J.Aird, Playford and Walsh from late 17thC, the rest are consistent with c1800 -10 Country Dances and Scotch Reels. Spare staves and pages have been infilled in a markedly different hand that I shall call "Browne B" (5 tunes). These include The Annan Polka. BF 11.70, which makes it unlikely that this hand is prior to c. l850.

BFI2 (34 tunes) starts chronologically with 4 Psalms in "Psalm Hand" followed by 13 tunes. One untitled tune which I have taken the liberty of naming "Wilson's Hornpipe. BF12.15" contains the inscription "J.Wilson, June 18,1833". Although this may just mean it was collected from J. Wilson, I regard this as extremely unlikely since I've never come across this practice elsewhere. It was certainly common practice at the time to write your own name in your own MS book, as can be seen from many of the other Village Music Project MS books on this Website-, therefore I shall refer to this writing as "J.Wilson Hand", and since the inscription "Kesswick June 19 1833 appears with "She Wants A Fellow. BF12.17" we can confidently assume that J.Wilson of Keswick wrote this part of book BF 12 in 1833.

There are no Quadrilles etc. in this selection, the repertoire being more reminiscent of c1810 Country Dances and Scotch reels. These are followed by 15 tunes in what I shall call "Browne C" plus another one that has been inserted in a spare couple of staves before the Psalms. This must be subsequent to 1833, but it also contains no quadrilles.

BF 13 (110 tunes) is said by local musicians to have belonged to or had some connection with a dancing master called James Lishman, of whom I have as yet no further details, although I believe more has been researched by others.

14 of the tunes, including 2 Polkas, are in the same hand as "Browne B" (c.1850) from BF 11, so that is what they shall remain for the time being. The remaining 96 tunes appear to be in what I shall refer to as "J.Lishman Hand". It may of course be the other way round in reality. The presence of Latee Quadrille (L'Ete Quadrille), tune 82, suggests a date of around 1820-25 for this portion of the MS.
| | | |
| --- | --- | --- |
| Table 1 | | |
| BF 11a | Browne A | c1800-10 |
| BF 11b | Browne B | c1850 |
| BF I2a | Browne C | c1835 |
| BF 12b | Psalms | c1800 |
| BF 12c | J.Wilson | 1833 |
| BF 12d | Browne C | c1835 |
| BF 13a | James Lishman(?) | c1825 |
| BF 13b | Browne B | c1850 |
BF 11 was therefore started by an unknown person I shall call Browne A, in c1800 - 10.

BF12 was started by a person I shall assume to be J.Wilson, of Keswick, in 1833, in a book which had previously been used by another person for writing 4 Psalms in. This book then passed to a person I shall call Browne C c l835, who entered more tunes.

BF 13 was started by a person I have assumed to be James Lishman, Dancing Master, c 1825. I may be wrong in identifying him thus. The book then passed to a person I shall call Browne B, who filled up the remaining available space, along with some in BF 11.

Browne B may in fact be James Lishman, or James Lishman may not have had anything to do with producing the books, and none of the persons involved may have been called Browne. (Confused?)

What is clear is that by 1850 at the latest. books BF 11 & 12 were in the possession of one person, who wrote in both of them, and we may suppose BF 13 also was in his possession. James Lishman seems to have owned BF 13 at some time according to reports, and they were certainly in the possession of the Browne family of Troutbeck, Westmorland, when they were collected by whoever it was who donated them to the Armitt Library so that they may be used by future generations to enjoy.

These notes may need to be changed as further information gathers.
Chris Partington.
18th December 2000

CHRIS PARTINGTON is a major researcher for the village music project.
He is a dance band musician of many, many years standing.
http://www.village-music-project.org.uk/
Contact:
John Adams
School of Media, Music and Performance
Adelphi, Peru St.
Salford, Manchester
M3 6EQ j.adams@salford.ac.uk tel: 0161 295 6057 (daytime) 01422 822413 (evenings)
ACCESS
:
Map reference :
NY 413028
Bells
:
One bell dated 1631, and inscribed JESUS BE OUR SPEED.
Six further bells hung for chiming presented in 1920.

Pictures
by Edwin Macadam, unless otherwise stated

Please see our Home Page for important copyright notice