The Chapel (Listed Grade II*)
The history of Cote goes back to Wycliffe's Poore Preachers who taught at Longworth across the River Thames in the late 15th Century. The first 'meeting house' is recorded in 1604 and the first minister of the Longworth / Cote meeting was appointed in 1652.
Joseph Collett, who died in 1741, reputedly made a baptistry in the garden of his father's house, at Cote and as a teenager in ca. 1700 attracted large congregations there. he became the first minister of Cote and Longworth in 1703, and a chapel was built on land thought to have been given by John Williams, apparently on the site of the later building, was registered for meetings in 1704. The chapel-yard was used for burials probably from the chapel's foundation, and the chapel was registered for marriages from 1839.
Under Joseph Stennett (minister 1742-69) and Thomas Dunscombe (1772-97), numbers increased and were drawn from a wide area of west Oxfordshire and north berkshire
The present Cote Chapel is a large single-cell building of limestone rubble with a gabled stone-slated roof an a projecting north-facing vestry. It seems to have been built by Stennett in 1756,soon after the chapel yard was enlarged; a gallery was reportedly added the following year. (Stanley, Hop Garden, p. 123). In the late 1850s all but the outer shell was rebuilt: the earlier double gable was replaced by a single flat-topped gable concealing the roof valley, the chapel was re-floored and the vestries enlarged, new pews, (including a table pew over the central baptistry) were installed and new galleries added, and a new pulpit at he west end replaced an 18th century one on the south.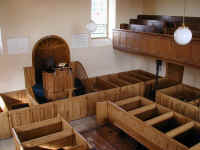 An organ, by Henry Jones of London, was installed in 1867. Electric light was introduced in 1948, and a major renovation was carried out in 1955, when stables adjoining the road, apparently those built in 1757, were converted to other uses: they survived in 1992.