St Mary the Virgin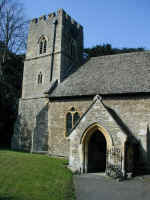 Two views of the south side of the church, the former showing the later south transept, which is highly decorated internally. See lowest picture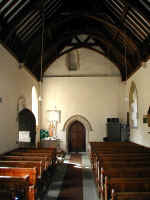 View of the west end of the church.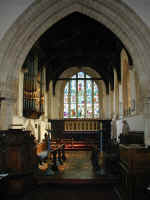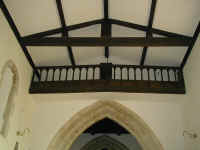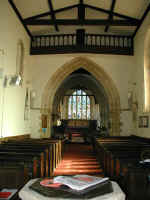 The chancel arch with, over, a Jacobean gallery. Originally giving access to the rood loft, the door in the wall behind now gives access to the belfry for ringers, the steps being outside the church on the south side.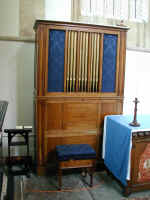 A small organ in the north transept, with a notice pinned to it that it is for sale.
There is also here a harmonium, Brattlebro 11 stop, imported by Estey of Oxford Street, London.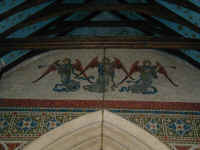 Part of the decoration on the walls of the south transept.

Dove's reference for the bells:
Buckland, Oxon, S Mary V, 8, 17cwt in E. -Wed
ACCESS
Map reference : SU343983

Pictures © Edwin Macadam 2003
Please see our Home Page for important copyright notice