The Church
St Mary's comes as a great surprise since it is that rarity, an unrestored red-bricked Georgian church built between 1768-71.
The pathway from the road to the church with its dominating embattled tower, is 100 yards long and made up of old tombstones which lie like stepping stones in the grass. Inside there is a marvellous sense of light enhanced by the barrel ceiling of the nave painted an attractive light blue. All the windows are of plain glass, apart from a small Crucifixion scene in the East window with four roundels alongside depicting Wheat (the Bread of Life), a Rose, Grapes and a Lily. The blue reredos behind the altar has the Creed, the Lord's Prayer and the Ten Commandments written on it in gold lettering.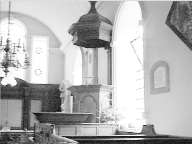 A great three decker pulpit capped by a carved dove dominates the nave. It is made of Spanish mahogany taken from an Armada galleon captured by the Duke of Effingham. The rest of the nave is filled by high boxed pews, each with seats on four sides facing the middle. The largest, with padded cushions and carved interior, was reserved for the Manor House. It even has its own wall pegs for hanging wigs on. At the west end the marble font is of unusual vase shape. Above it is a musician's gallery, with two rows of seats for the musicians and a barrel organ dating from 1830. Hanging from the gallery are the Arms of King George III dated 1771
This information and pictures come from the pages written by John Symonds for the Waterlooville's On-Line Parish Magazine. Link here.