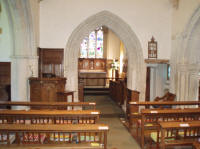 View of interior from gallery
© 1998, R

ichard Camp

"The organ stood on one side of the chancel, close to and under the immediate eye of the vicar when he was in the pulpit and also in full view of the congregation. Here [Fancy Day] sat down, for the first time in such a conspicuous position...." (Under The Greenwood Tree Part IV, Chapter V)

In December, 1996, the newly-restored West Gallery of St. Michael's was rededicated, and a new organ, replacing this one, was set there. Incidentally, Hardy himself once recommended the restoration of the West Gallery -- with the organ placed there.