St Luke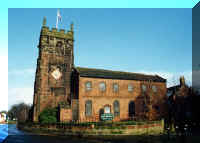 There has been a church on this site since the 13th Century. Many parts of the current building date from the 15th Century when it was dedicated to St Luke in 1430. The church's present-day appearance dates from around 1700 when the old plaster and timber walls were replaced by brick.

The tower is built from red Cheshire sandstone and has survived largely intact from the 15th Century. It was renovated in 1839 along with much of the rest of the church and further restored and repaired in 1931 and 1950.

These pictures have been copied from the church's own web site. Visit them at: http://www.saintlukes.fsnet.co.uk/

The wooden stairway up to the gallery was originally located at the other end of the nave but was moved to this end in 1831. It was moved again to its present position in 1898 and the space behind and under it is used as the choir vestry.
The organ pipes in the west gallery were installed in 1971. The stone font dates from 1890.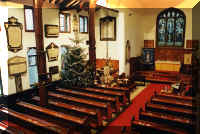 8 oak pillars hold up the roof and the 6 in the nave are octagonal in section. 2 at the rear of the church are fixed to the wall of the tower. All 8 date from 1425. One or two of the pillars appear to lean at strange angles.
The pews are varnished pine and were installed in 1879. Memorial tablets are mounted on many of the walls.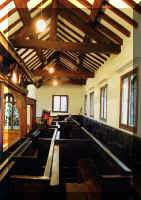 The gallery was installed in 1705 as a gift from Thomas Hall shortly after the new brick walls had been built.
It contains 3 rows of pews which themselves date from before 1879 and despite its unsteady appearance is still used regularly.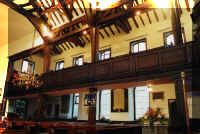 Showing the gallery on the south side.

The brass chandelier hangs in the centre of the Nave and dates from 1708, a gift from Thomas Hall. The dove at the top is of wood. The chandelier was rehung in 1897.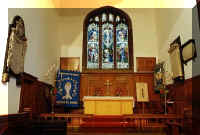 The present-day chancel dates from the extension of the original sometime between 1700 and 1732. Its ceiling is still plastered and not bare like the rest of the church and its parquet floor was installed in 1898. The altar rail is Jacobean and the altar table is an extended copy of the Jacobean original.
The bishop's chair on the left hand side dates from 1700 and the chair on the right dates from 1680.


Dove's reference to the bells:
Holmes Chapel
, Cheshire, S Luke, 6, 11cwt in F#. Friday
ACCESS
Map reference :
SJ762673

Photographs are from the churches own web site. Link to it as above.

Please see our Home Page for important copyright notice