The present organ is a fine example of 18th century design and craftsmanship, having been built in 1790 by Allen of Soho. It probably started life in a great house in London whence it passed to St Anne's Church in Lewes, then to Offham, just north of Lewes, and finally to Southease. It had suffered badly during these travels, and needed careful restoration in 1965 by N. P. Mander Ltd when it was brought back to its original appearance and tonal scheme. There are few organs of this type and date still in existence. St Margaret's Westminster, York Minster, and the private Chapel at Buckingham palace have similar ones.

Unfortunately no record has yet been found of previous instruments or of music in the church during the west gallery period. A search of the Churchwardens' Accounts could provide such evidence.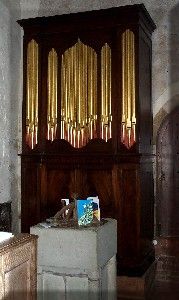 The present organ in Southease Church
[Photo: courtesy of the church website]


Another or these round towers is to be found a few miles further downstream, at Piddinghoe. Canon MacDermott reported in his book Sussex Church Music in the Past, 1922 that there was a a barrel organ in poor condition in the church at St John's Church, Piddinghoe. Langwill and Bolton, Church and Chamber Barrel-Organs, 2nd Ed. 1970, goes on to report that this instrument is indeed in bad condition and with no casing or pipes, although the barrels remained. It had three stops, 2 barrels each of 10 tunes, and 28 notes.
Further reference, together with a picture, may be found in an article in The Musical Times for November 1953, p 517, written by Allan Phillip, wherein he gives a slightly greater description of the instrument, its condition at that time, and its history, although much of the rest of the article refers obliquely to MacDermott and his anecdotes of Sussex barrel organs without actually referring to him by name.
Phillip states that the organ, 'a fine example of an early nineteenth-century organ' was actually installed about AD 1790. This statement, (already in quotes in his article) obviously comes from another source, for Langwill and Boston state that the instrument was restored in 1790, thus suggesting an earlier date for its installation.
Confusingly Phillips states that there were at that time 'three cylinders, (not two as in Langwill and Boston) "which could be shifted by a handle at the side to change the tunes, and could play five hymns an two chants. Some of these old organs had projecting pins or metal staples, as in the musical boxes of early years; but in this case the cylinders are studded with wire projections, which, as they are revolved, engaged with connections on a wooden shaft and regulated the admission of air to the pipes. . . The bellows remain, but the handle has disappeared. There are three stops which are named 'Open Diapason', 'Principal', and 'Fifteenth'. The instrument has been, as far as possible, renovated and appears tom be in a good state of preservation, [but without pipes]. . . It has not been played for about one hundred years. The oldest inhabitant, a man of some eighty-seven years who died only a few years ago, could remembers a very small child hearing the organ in use at the Sunday services". This suggests a date about 1880 when the organ might have last been played, and quite probably this coincided with the removal of the west gallery during the 1882 restoration. The present organ dates from that time.
There was indeed a west gallery in the church, removed as part of Victorian restoration, but it is unlikely the instrument was ever housed there, but rather more was used at the back of the church, the village band and quire having originally been above it in the gallery. Phillips suggested that the instrument was light enough to have been used for secular purposes over and above church use, and that indeed it had been so used at the local ale house on occasions. No source is recorded for that observation.
Barrel Organ: The Story Of The Mechanical Organ And Its Repair," by Arthur W. J. G. Ord-Hume. Published in 1978 by A. S. Barnes and Co., New York, contains another illustration of this organ, entitled 'Remains of a large barrel organ at Piddinghoe'.