Worthenbury, St Deiniol
SJ 419462.

The earliest recorded reference to a church at Worthenbury dates from 1388. The church was completely rebuilt in 1739, and the interior still retains many of its Georgian features. Many experts consider it to be the finest example of a Georgian church in the whole of Wales.

Box pews, three-decker pulpit, but has it a gallery?
Llangelynin Church
nr. Hendre
,

p
robably
St. Celynin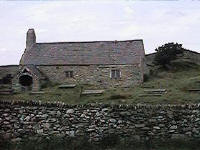 The site of the old church is high above the Conwy valley, in the shelter of Tal y Fan. Several footpaths converge here. For many years these would have been the main routes between the Conwy valley and the settlements over the hills in Penmaenmawr and west toward Caernarfon and Anglesey.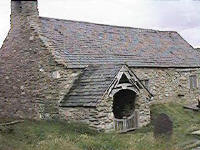 The nave of the church is the oldest part, to which the present chancel was added in the 15th century. In the following century, north and south chapels, a south porch and a new east window were added. In 1800 the south chapel and the gallery were demolished, but the church has remained essentially unchanged since then.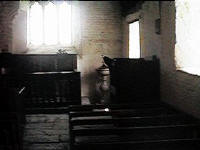 Taken from:
http://www.walesdirectory.co.uk/llangel/llangelynin.htm
with many thanks. Please visit this excellent website.
Llanrwst,
Gwydir Uchaf Chapel
The chapel dates from 1673, the date being on a date-stone and on the gallery. The west gallery has turned balusters. There are complete furnishings, including a painted ceiling. In the care of CADWnand included in the guidebok for Rhug Chapel and Llangar Church.

In the care of CADW and included in guidebook for Rhug Chapel and Llangar Church